Award-winning songwriter and recording artist Phil Wickham returned to the Liberty University campus for a full day with students on Wednesday, performing and speaking at the Virtual Morning Convocation and at Campus Community at the Williams stadium in the evening.
Liberty's senior vice president for spiritual development, David Nasser, noted in Convocation that the well-known Christian entertainer has become a familiar guest on campus in recent years after appearing on Convocation several times and working with members of the Liberty Worship Collective to write original songs. Wickham then met with the Collective to mentor them in creating new music.
"I think the reason we get you so often is because when you walk in, you're not just interested in being on our stage, you're interested in building and growing relationships with our students," Nasser said. .
Wickham won the Dove Award for 'Recorded Worship Song of the Year' last year for his song 'Living Hope'.
Wickham's previous visit to Convocation was in October 2019, where he and his brother, Evan, pastor of Park Hill Church in San Diego, spoke about the concept of fellowship and cultivating healthy relationships within families. . Reflecting on that conversation last fall, Wickham said the open and honest time has proven to be a form of therapy for them in their sibling relationship and they've experienced a deepening of their bond.
As a songwriter and performer who likes to keep a full itinerary, Wickham said like many other musical artists, the onset of the COVID-19 pandemic has caused him to re-evaluate his approach to life and work. job.
"Since I was 18 or even earlier, my whole life has revolved around filling the schedule (with touring and work)," Wickham said. "To completely sweep the schedule, there was a bit of anxiety to (ask) 'What am I doing? What is my place in the world now? »
Without traveling and more time spent at home with his wife and children, Wickham said this new routine has allowed him to better connect with his family.
"It's been very healthy for my marriage…and now, looking back, I'm so thankful for the closeness this year has brought for me and my family," he said. "I had to relearn how to be more thoughtful, more selfless in situations, and I came out the other side respecting (my wife) even more and vice versa."
Wickham has spent his free time writing songs and finding ways to use his musical abilities and his Christian faith to create songs that can share the peace and wisdom of Jesus in response to the anxieties and fears the world is facing. confronted.
"As any artist, songwriter, painter, you react to culture and your own circumstances, and this year has brought about a lot of new cultural circumstances that we've never faced before," Wickham said.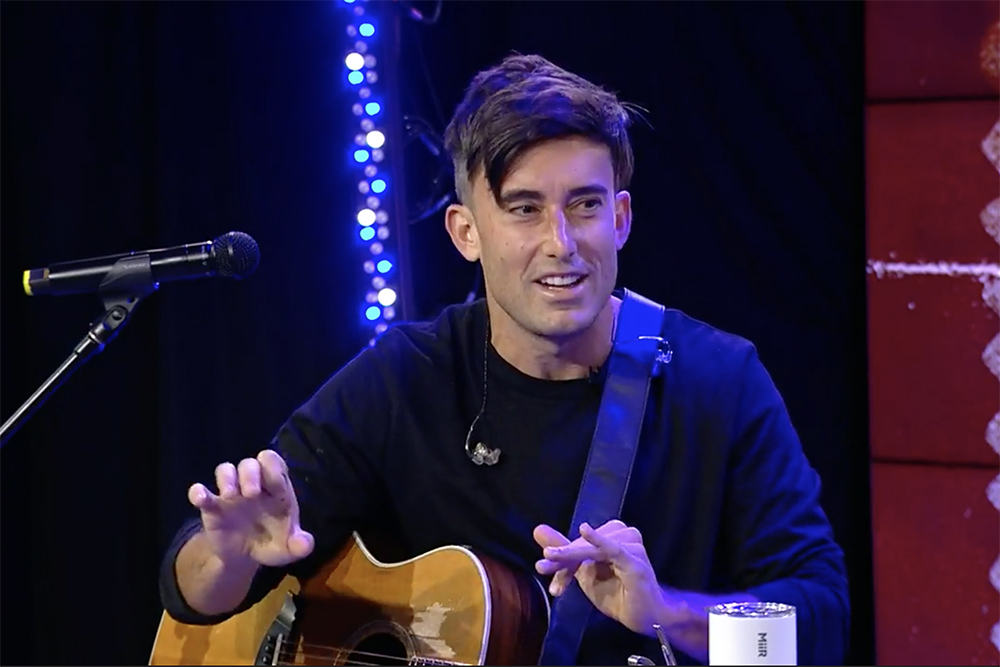 At the Convocation, Wickham debuted his new song, "Hymn of Heaven," which he explained is meant to help Christians focus on God rather than the flawed societies around them.
"2020 made me say, 'I can't wait for the day when we don't look at a man or an ideology or whatever that is a (perceived) king of this world; we consider Jesus the king of this world," Wickham said.
The Liberty Worship Collective joined Wickham in leading worship at Campus Community, performing "Hymn of Heaven" among many of its hit songs such as "Living Hope", "This Is Amazing Grace" and "Battle Belongs" to an estimated 3,700 students, all socially distanced in the stands and on the pitch, and to thousands more watching online. Between songs, Wickham expressed gratitude and renewed appreciation for being able to lead worship in person again, after so many months without being able to do so due to COVID-19.
"I haven't traveled much this year, and now I realize how much I took those times for granted," Wickham said.
See Wednesday's videos Summons and Campus community on the Liberty Office of Spiritual Development Facebook page.